The Churnet Valley
Railway
Home

The Churnet Valley Railway runs steam and historic diesel trains between Leekbrook Junction and Froghall. It is a remnant of the North Staffordshire Railway, built through the valley in the 1840s. Currently, it has stations at Cheddleton, Consall and Froghall but there are plans to, eventually, extend to Alton, Oakamoor and, especially, Leek which is the nearest large town. It also connects with and sometimes runs on the Cauldon Lowe Branch, up the 1-in-45 incline to Ipstones.
Click the thumbnails to view the galleries.
Steam Videos
S160 Class 6046
6046 was initially sent to France for the reconstruction after WWII before ending up in Hungary. After retirement, it was brought to the UK, where, after initial work elsewhere, it came to the C.V.R. where it was restored to operation in 2012.
S160 Class 5197
5197 first came to Britain from the U.S.A. during WWII. Post-war, it was sent to China where it hauled coal until retirement and a return to Britain in 1995. In recognition of the type's war service, it's painted in 1944/45 US Army Transportation Corps colours.
Fowler 4F 44422
4F 44422 was restored at Cheddleton in the early days of the C.V.R. Since then, it has travelled the country from railway to railway, including a short visit back to Staffordshire in 2009. It returned as a full-time resident at the end of 2019.
Lambton Tank No.29
Originally built for the Lambton Collieries in County Durham, No.29 was on loan from the North Yorkshire Moors Railway during August and September 2013.
Black 5 45379
Stanier Black 5 class 4-6-0 45379 came to the C.V.R. from the Mid Hants Railway for the February 2012 Steam Gala.
'Large Prairie' 5199
5199 was originally built in Swindon in 1934. Restored in 2003, it was on hire from the Llangollen Railway in 2011.
Stanier 8F 8624
Stanier 8F 8624 was on loan to the C.V.R. in 2010. The red livery was not original: as a freight loco. it would have been black. Since leaving the CVR, it has been repainted in black and renumbered as British Rail 48624.
3F 'Jinty' 47279
47279 was hired from the Keighley and Worth Valley Railway in 2008.
7821 'Ditcheat Manor'
'Ditcheat Manor' is an ex-British Rail engine, built to a Great Western Railway design in 1950, and was on loan to the railway in 2006.
BR Standard 4MT Tank 80098
80098 was built in 1954 and, like many locos of that era, it was retired while still relatively new. It was on long-term loan at the C.V.R. until mid-2008.
Galas and Specials Videos
Steam
As well as the regular residents, the C.V.R. welcomes visitors, especially for galas and other special events.
Diesel
The railway has an assortment of historic diesels and occasionally holds diesel galas.
Diesel Videos
Diesel Multiple Unit 50455/50517
Class 104 DMUs were a 1950s design, withdrawn from service in the early 1990s. This set was resident on the CVR for a number of years until it was relocated to the East Lancashire Railway at the end of 2014.
D1842
D1842, a.k.a. 47192, was a C.V.R. resident when this video was taken in 2007. Subsequently, it left the C.V.R. and returned to Crewe, where it was originally built.
Photo Collections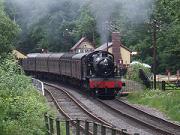 Steam Gallery
This gallery contains an assortment of the permanent and loaned steam engines that have run on the C.V.R. in recent times.